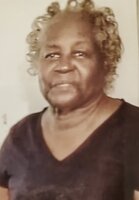 Allyne Wilson Paterson
Allyne Wilson Patterson departed this life in the early morning hours on January 31, 2023, after a very brief stay at Johnston-Willis Hospital.
She was born October 18, 1939 in Amelia, Virginia to the late Arthur and Christine Worsham Wilson. She attended school in Amelia, Virginia then known as Russell Grove. She worked for many years as a cook at the 360 Truck Stop and for a period of time as a cook at Hardee's.
Allyne joined Manassa Hill Baptist Church at a very early age. She was joined in holy matrimony to the late Allen Stewart Patterson in February 1958. From this union five children were born, Ricky, Shirley, Lisa, Franklin, and Victoria.
Allyne was preceded in death by her husband of 63 years, Allen, her daughter Lisa, and seven siblings, Lee, John, Arthur Jr., Ben, Virginia, Pauline and Christophine.
Left to cherish her fond memories are, two sons, Ricky, and Franklin Patterson; two daughters, Minister Shirley Jefferson (Central), and Victoria Mitchell (Alonzo Sr.); five grandchildren, Richard (Arlisa), Cedric, Demetri Jefferson, JeLissa and Alicia Williams; six great-grandchildren; two brothers, Samuel Wilson (Gladys), and Robert (Christine) Wilson; sister-in-law, Morine Patterson; a host of nieces, nephews, cousins, other relatives, and friends, one devoted, Eunistine Fletcher.
Allyne was a quiet person who loved to dance, watch soap operas, other TV shows such as American Idol, NCIS, and Law and Order were her favorites. Allyne was looking forward to moving back to her new home on "The Hill", as her children have called it her homeplace for years, sharing it with her youngest son, Franklin Patterson who served his parents faithfully as the need occurred while they lived in their prior home on the "The Hill". After the destruction of their home on "The Hill" Allyne returned back to Amelia to live with her youngest daughter and her husband until her death. She stayed with them for one year and two months, often stating that her cooking days were over and that she had retired from cooking, cleaning and etc.
Funeral Services was:
Saturday, February 4, 2023
Cedar Hill Baptist Church
Blackstone, Virginia
Reverend Louis Hembrick, Pastor/ Officiant
Reverend Jimmy Coleman, Eulogist