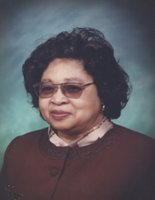 Myrtle Sylvia Thompson
Deaconess Myrtle Sylvia Thompson was born on May 21, 1938 to Floyd V. Temple Sr. and Minnie E. Temple in Chesterfield and was married to Holcomb Charles Thompson Sr. for 64 years.
She was preceded in death by her son, Holcomb Charles Thompson, Jr. and Grandson, Ivry Carter Thompson.
She joined Tabernacle Baptist Church of Winterpock at an early age. She accepted Christ at 12 and sang in the youth choir. She served for many years as a deaconess, in the Missionary Circle and the Senior Choir at Pleasant Grove Baptist Church of Amelia.
She was also a member of the Order of the Eastern Star.
She attended Chesterfield County Public Schools and graduated from Carver High School Class of 1955.
She worked for Amelia County Public schools and the Amelia County Dress Factory as a seamstress.
She enjoyed sewing and cooking for her family and friends. She also enjoyed watching Basketball on TV. She followed VCU.
She leaves to cherish he memory, 4 children: Ivry (Sheryl), Maurice (Patricia), Merle, and Bonnie; sister and brother: Carol Dabney and Floyd Temple, Jr.; seven grandchildren, Holcomb Charles Thompson III (Takisha), Kira Lynel Thompson-Cowan (Grover), Michael Christopher Williams (Margaret), Nickolas Rayshawn Williams, Ian Thompson, Merle Sylvester Thompson Jr, Nolan Sidney Thompson; great grandchildren, Mykel, Makhi, Michael Jr., Geremiah, Grover, Ny'Lah, and Victoria; sister-in-law, Gladys Thompson; and a host of nieces and nephews, cousins and other relatives and many devoted friends.
Click link to Zoom in Friday 2/5 @ 1pm for Ms. Thompson's Service