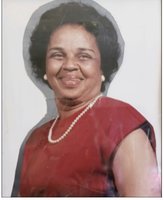 Beatrice Gardener
Beatrice Gardner entered into eternal rest on March 30, 2021. She was born on December 20, 1924 in Baltimore, Maryland to Charles and Edna Flowers.
Beatrice retired from the Montroe School for Girls where she worked as a Counselor. She was a very active Member of her Church in Essex, Maryland. She was a very loving person and was loved by her family and entire community. She will be deeply missed.
She was preceded in death by her husband, Patrick Gardner, twin sisters, (who died at birth), her children, Evonne Flowers, Bradia Booker, and Alphonso Booker.
She leaves to cherish her memories, daughter, Fontaine Booker of Georgia; daughter-in-law, Patricia Gardner of Maryland; grandchildren, Fontaine Booker of GA, Marius Booker of VA, Darnella Bose of Pittsburgh, Charlene and Shawn Archer of VA, Gineara Benson of GA, LaBradia Booker of VA, and Cheyenne Mays of PA; host of great-grandchildren and great-great grandchildren, other relatives, and friends.