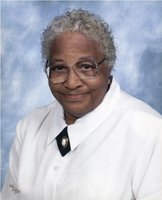 Mary Jones
Mary Elizabeth Finney Jones entered into eternal rest on Thursday, June 17, 2021at her residence in Amelia County, Virginia.
She was born in Newport News, Virginia on November 1, 1930 to the late Percy Finney and Alease Reese.
Mary was preceded in death by her sister Anna L. Finks, brothers Percy Leon Finney, two infant daughters Amelia and Olivia.
She spent much of her early life working in Philadelphia, PA doing hospital work. After returning to Amelia in 1971, she was employed by GBC, Chippenham Hospital, Holiday Inn, caregiver to her mother, and domestic work.
Mary was a faithful member of Branches Runn Baptist Church and was educated at the Oak Grove School in Mannboro, Virginia.
Mary was united in holy matrimony to the late James Jones, of Amelia, Virginia.
Mary enjoyed the company of family and friends, listening to all kinds of music, sitting on the deck watching traffic, and fishing.
She is survived by her loving children, Mary J. Coleman (Curtis), Debra J. Valentine (Solomon), and Mark A. Jones; granddaughters, Tiffany Coleman, Rochelle Jackson, both of Richmond, VA, Alicia Coleman, Newport News, VA; niece, Ruth J. Finks, Amelia, VA; sister-in-law, Mrs. Nell Bumbrey, Washington, DC; nephew, Dr. Waverly Bumbrey, Sr., Detroit, MI; many special friends, among them Jack Davis, neighbors, and family pet cat "Jerry".