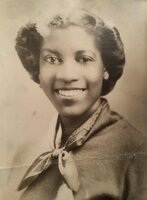 Hattie L. Jones
Hattie L. Jones was born on September 22, 1919 to Blanche Hines and Andrew Huggins in Florence, SC. She moved to Ithaca, NY with her mother at age six. After many adjustments, our mother thrived and graduated from Ithaca High School in 1939. She excelled in sports(track and field, softball, basketball) art, dance and academics. Hattie married Clarence McGill. They raised three children while residing in Binghamton, NY. They later divorced.
Hattie had a fierce work ethic. She was determined to overcome many obstacles and succeeded. Hattie worked at the Binghamton Country Club in the 1950's. She, subsequently, worked at IBM in Endicott, NY. Mom played on the IBM softball team well into her 60s. IBM transferred mom to Washington, DC, as an administrative assistant. Then she met her love and married Richard Jones April 23, 1977. They were happily wed in Arlington, VA until his death in 1999. Mom retired from IBM in 1987.
By the way, mom was employed at the Jefferson Senior Living Center also. That is where she met her best buddy, Evelyn Simms, who died two years ago. That was a fun job!
While working at IBM, mom's high energy level motivated her to secure part time employment at the Army Navy Country Club. She loved that job for over forty years! Mom was a greeter and coat check worker until the time of her death. According to Captain John C. Tuck (USN Ret.), chairman of The Club, "Hattie was one of our longest serving employees. Her dedication to the club and her genuine love for so many of its members helped make Army Navy such a very special place."
She worked at the Jefferson and the Club for many years at the same time. She left there when she had to learn computers, but still continued at the country club. That was a fun job too, where she met many prominent people.
At mom's birthday party in 2019, Ms. Jones said, "Turning 100 years old is unbelievable to me. I can still work, drive, dance, shop and exercise, which are my favorite activities. My life is so blessed with a wonderful family, friends and coworkers."
Mom's death at 102 years old on September 27, 2021, has left a vacuum in the energy field. Her vibrancy, love of life, keen creative/artistic sense and energy level will be missed by all who knew her.
Hattie's husband, mother, son, Charles and grandson, Charles, Jr. have predeceased her.
She is survived by a daughter, Carmen M. McGill, son, Clarence "Bucky" McGill and daughter-in-law, Evelyn, ten grandchildren, nine great grandchildren and two great-great grandchildren.
Any contributions can be made to Hattie Jones and Evelyn Simms Racial Reconciliation Scholarship Fund, Grace Community Church, 5401 South 7th Rd., Arlington, VA 22204, NAACP Legal Defense Fund or St. Jude's Children's Hospital. No flowers please.
The Celebration of Life will be at Westminster Presbyterian Church, 400 I St., Washington, DC, Saturday, 10/9/21; viewing from 2-3pm and the funeral at 3pm officiated by Rev. Brian Hamilton.