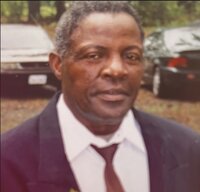 Allen Stewart Patterson
On Thursday, November 25, 2021, we faced one of life's most difficult moments, the loss of someone so special to each of us. God Almighty in His infinite wisdom, grace and mercy called Allen Stewart Patterson to eternal rest.
Allen was born on September 18, 1937, to the late Haywood, Sr., and Lucille Stewart Patterson. He was educated in the Amelia County Public School, andjoined the Branches Runn Baptist Church at a very tender age.
Allen was employed as a contractor. He loved building and working with his hands. He designed and built his own home. A lot of love went into his work.
"Pat", as he was affectionately called, is survived by his loving wife of sixty-three years, Allyne Wilson Patterson; daughters, Minister Shirley Jefferson (Central), Victoria Mitchell (Alonzo); sons, Ricky and Franklin Patterson; five grandchildren, Richard, Cedric, Demetric Jefferson, JeLissa and Alicia Williams; five great-grandchildren; sisters and brothers-in-law; nieces, nephews, cousins, other relatives, and many friends.
A Memorial Service will be on Monday, December 6, 2021 at 1:00 p.m. at the Branches Runn Baptist Church, Amelia, Virginia. Reverend Dr. Alonza B. Williams, Pastor, Reverend Waverly Brown, Sr. Eulogist.