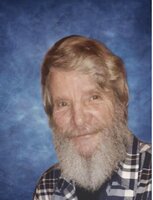 William "Larry" Rhoten Sr.
Rhoten, William "Larry" Sr. went to join his Heavenly Father for enteral rest, at home on Tuesday, May 31, 2022. He was preceded in death by his parents Anna Lee, and Paul, and four brothers, Jerry, David, Lester, & Carl.
He served in the U.S. Army for three years when he was honorably discharged. He worked at Philip Morris Inc. for thirty-plus years as a fixer and a machine operator, until he retired. After he retired he also enjoyed working at the Chesterfield Berry Farm, driving the tractor with the straw-filled wagons out to the strawberry patches and the pumpkin patches.
He is survived by his loving wife of 47 years Susan, and a proud father of his son, William Larry Jr. "Will" his wife (Angel); three grandchildren, Elizabeth, Emerson, and Ian, one brother, Paul and his wife (Janet) Rhoten of Alaska.
FUNERAL INFORMAT:
In lieu of flowers, donations may be made to our church, Grace Harvest Baptist Church, 9821 S. Redfield Drive, Amelia, VA 23002.
VIEWING: The family will receive friends at the viewing on Wednesday, June 8, 2022 from 4 pm to 7 pm. at V.Y. Scott Funeral Home, 14001 Patrick Henry Hwy. Amelia.
FUNERAL SERVICE will be on Thursday, June 9, 2022 at 11 am, with viewing from 10 am until the service at Grace Harvest Baptist Church, (G.H.B.C.) 9821 S Redfield Drive, Amelia VA 23002.
INTERMENT: will be at the Virginia Veterans Cemetary of Amelia, 10300 Pridesville Road, Amelia, VA 23002 at 1 pm.
REPAST: We will return to Grace Harvest Baptist Church for the funeral reception at 2 pm